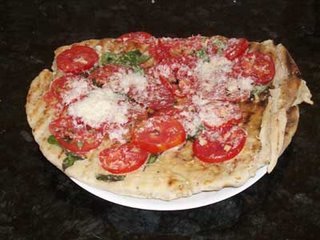 This is the best recipe I've made yet for pizza that you grill; try it out!
1 1/4 oz envelope yeast (or 2 1/4 t)
3/4 c warm water
1 3/4 c flour
1 1/2 t salt
1 1/2 t olive oil
Stir the yeast, 1 T flour, and 1/4 c warm water together in a small bowl and let sit until it's bubbled up and creamy-looking, about 5 minutes.
In a large bowl, stir together 1 1/4 c flour and the salt; then add the yeast, oil and remaining 1/2 c water. Stir until smooth.
Stir in enough additional flour (about 1/2c) so that the dough pulls away from the sides of the bowl, then turn it onto a floured surface and knead until smooth and elastic, about 8 minutes.
Let rise on a generously floured surface until doubled in bulk, about 1 1/4 hours (or stick it in the fridge, in a bowl, and let rise all day; bring to room temperature before shaping).
When you're ready to shape the dough, don't punch it down but dredge it in flour and then hold it up with both hands moving around the circle of dough like a steering wheel, letting gravity pull the dough down. Once it's stretched to about 7″ around, lay it on a well-floured board or pizza peel and stretch it out to about 9″.
Let the dough rest 10-20 minutes before grilling.
When you're ready to make pizza, preheat the grill on high for 5-10 minutes, then oil well. Slide the dough onto the grill and bake until browned on the bottom (about 5 minutes). Remove from the grill, turn the dough over, and put your toppings on the grilled side. Now turn the grill down to medium, slide the topped pizza dough back on to the grill, and close the grill to cook the pizza. Check after 5 minutes, and continue grilling till the cheese is bubbly and the bottom of the crust is browned.