Depending on the company, Ben and Eli play lego, or rocket ships, or build forts, or draw, or do puppet shows. On Saturday, their puppet show friends came to play and, as usual, Ben and his fellow second grader took the lead, assigning smaller roles to the younger siblings. The boys wanted to perform a play by Shakespeare, but then realized that they don't really know the plots of any of Shakespeare's plays. So they went to Plan B, starting with an announcement from the MC:
Welcome to our show! Thank you for coming today! Please carefully read the list of rules. Smoking is strictly prohibited. Now we can get to the important part. Today we will be showing a puppet show. Please welcome: Shakespeare writing a famous play: Romeo and Juliet!!!
Next, they produced a script: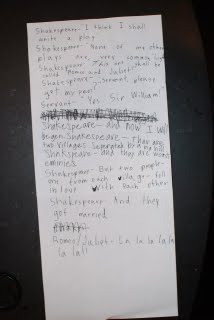 Shakespeare: I think I shall write a play.

Shakespeare: None of my other plays are very common. (sigh)
Shakespeare: This one shall be called, Romeo and Juliet!
Shakespeare: Servant, please get my pen?
Servant: Yes Sir William!
Shakespeare: And now I will begen.
Shakespeare: Thar are two villages separated by a big hill.
Shakespeare: and they are worst eminies.
Shakespeare: But two people – one from each village – fell in love with each other.
Shakespeare: And they got married.
Romeo/Juliet: La la la la la la!!
At this point, Eli apparently became disgruntled about his role, and expressed his dissatisfaction:
I DO NOT GET IN STAGE.
That seemed like a good time to pause for dinner. The quartet of kids gets together again next weekend, and it'll be interesting to see how the scripts — on stage and off — develop.