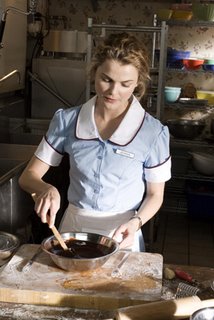 This month: letter-writing and pie baking in Adrienne Shelly's lovely film, Waitress:
According to family history, when my aunt claimed, at a picnic, that her pie crust was better than her mother's, grandma threatened to throw the pie at her head. My mom kept quiet, just grateful that grandma had already imparted her pie crust secrets to her.

People take fierce pride in a fine, flaky pie crust, and in fact my mom's is so good that for years, I was too intimidated to attempt it myself. Pie crust isn't complicated, but unlike bread or cake, it is finicky and unforgiving. Handle it too much, or add too many drops of ice water, and it turns tough instead of toothsome. The best way to learn pie crust is to watch at someone's elbow (preferably of course a mother or a grandmother, who can tell you family stories while you bake) and then practice until you get the touch of it.

Jenna Hunterson (Keri Russell, expressing little of her Felicity-era perkiness) learned about pie-making from her mother, who'd bake Car Radio Pie or Jenna's First Kiss Pie while singing to her daughter. Now Jenna, the Waitress of Adrienne Shelly's nuanced and surprisingly funny film (2007), is stuck in a bad marriage to a childish husband and unhappily pregnant. Although she keeps baking the popular Marshmallow Mermaid and Chocolate Strawberry Oasis pies for the diner where she works, she's hoping to bake her way out of town and into a new life. Meanwhile, she can't stop imagining new pies, like Pregnant, Miserable, Self-pitying Loser Pie ("oatmeal and crumbled fruitcake, flambé of course") or Baby Screaming Its Head Off In the Middle of the Night and Ruining My Life Pie (a brandy-soaked cheesecake); her pies tell stories, but right now, they aren't such happy ones.
Read the rest at Literary Mama!