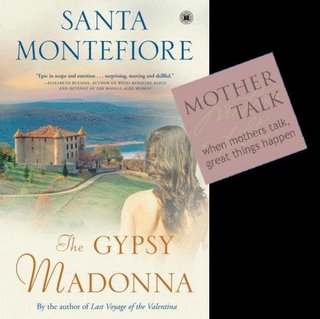 So hosting a MotherTalk is my idea of the ideal evening: I get to stay home and cook snacks and sweets; a group of friends and friendly others comes to my house; a writer arrives and talks about her book, her writing process, the people she meets on her book tour. What's not to like?
This evening's MotherTalk, with Santa Montefiore, came the evening after my son's preschool auction, so several of us were not at our most-well-rested best, but Santa is such a terrific storyteller, we were rapt. She told us about writing her very first novel while working a beautifully-appointed (but apparently not too busy) desk at Ralph Lauren; about fictionalizing real people (and how rarely they recognize themselves); about making the most of her writing time by compiling a soundtrack for each novel (when she sits down to write, rather than read over her last pages to get in the mood, she just starts her music. This apparently works better for her lush historical novels now that she no longer shares an office with her 80's pop music-loving husband); and about meeting Helen Mirren and Anna Wintour.
We ate and talked and everyone went home with a new book to read in bed, and I've got some good leftovers: a perfect evening.