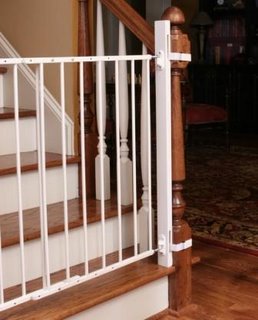 We've undergone many milestones recently: Eli toilet-training; Ben starting kindergarten; me completing a book. But today, we did something that keeps making me smile, that makes our house seem bigger and much more easily navigable.
We took down all the baby gates.
Eli is now a free boy!
More big changes await, as we order a bunk bed for the boys, a pull-out couch to turn Eli's little room in to a guest room, and move my desk in there, too, so that when it's not a guest room, it can be (drum roll, please) an office for me. I'm can hardly breathe for excitement at the prospect of having my computer and my bed in separate rooms.
But for now, we're all just reveling in having those three bulky gates gone. We hadn't been using them much these last few months, anyway, but they took up space (and, we discovered, collected lots of dust underneath them). The hallways and stairs seem magically wider and brighter now.