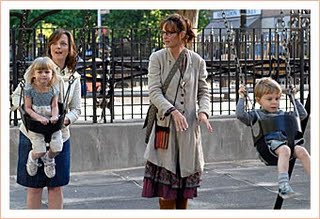 How perfect! A movie about a woman trying to raise two kids in the city while also carving out time to write. I was eager to see Katherine Dieckmann's new film, Motherhood, especially after reading the interview with her on Literary Mama. Here's an excerpt from my latest column:
Dressed in jeans and an old fleece, my hair pulled back into a messy bun, I looked exactly like what I am: a mom who'd just barely made it out of the house, leaving the post-dinner mess, homework supervision, and the kids' bedtime to my husband so that I could see a movie. Glancing around the theater, I saw my compatriots, in ones and twos, one pair with a sling-cozy baby, eating balanced dinners of popcorn and peanut M&Ms.; Not date night, but mom's night out at the movies as we all waited for the start of Motherhood, Katherine Dieckmann's day-in-the-life film about Eliza Welsh, New York City mommy-blogger, former fiction writer, wife, and mother of two.
Click on over to Literary Mama to read the rest, and let me know what you think!