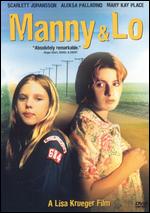 Manny & Lo is an old favorite of mine, a film I used to teach in my Women's Studies classes and the occasional film class, too. I listed it in my original column pitch to Literary Mama, and it took me a year and a half to get around to it. And then of course, by the time I sat down to write about it, all the stuff I used to focus on when I taught the film — in my prior life, before I had kids — flew out of my head and I saw it a completely new way. So here's what it makes me think about now:
When I was first pregnant, I dreamt my baby was a girl. She was beautiful in my dreams, with my husband's blonde hair and blue eyes. But, nightmarishly, she was also a teenager, one of the popular ones. I woke in a cold sweat at the thought of producing a "mean girl," like those that had so intimidated me in high school. I ended up having a boy, but I still think sometimes about what a daughter of mine might be like, about how I'd mother her. And I think about that particularly when I watch a movie like Manny & Lo (Lisa Krueger, 1996), about two tough girls who could use some mothering.
Click on over to Literary Mama to read the rest.