As I have written before, Eli cares for his stuffed animals quite devotedly. Like any good parent, he tucks them into bed at night and makes sure they're cozy, he throws birthday parties for them, and worries about their eating habits.
Big Doggie, the biggest of the stuffies, is also the oldest of the stuffies and recently we learned that he has a job. Every night at bedtime, Big Doggie eats a snack from his new bowl and heads off to his job, typing on the computer and talking on the phone (happily he doesn't leave the bed, and the work seems not to interfere with Eli's repose). So I shouldn't have been surprised the other day when Eli announced that Big Doggie was getting married. "Who is he marrying?" I asked. It was a stumper. Eli glanced around his bed, then ran to the basket of other stuffies and started pawing through the pile. He pulled out the stuffed snowman Ben made at a friend's house a couple years ago and held it up, laughing. "Big Doggie can't marry the snowman; he would melt!" He rejected the kangaroo, the otter, the two frogs, duck and many others before finally coming to a dachshund about half Big Doggie's size. Right behind that one there was a smaller dachshund. "Perfect!" Eli crowed, "A bride and a baby!"
So, we had the players, but then Eli realized we needed a wedding feast. "Cookies! Chocolate chip cookies!" Easy enough, and more fun when I remembered that we have lots of cookie cutters to make the wedding dessert more special. We picked out three dogs (a lab like Big Doggie and two different dachshunds), a bone and a heart. We picked flowers from the garden.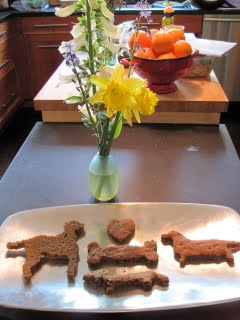 We dressed the happy couple in special outfits, including collars for their wedding rings, and we deptutized the mooses as ring bearers: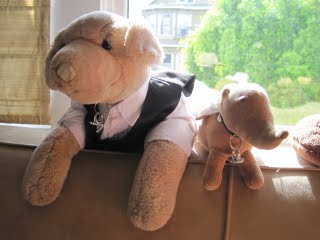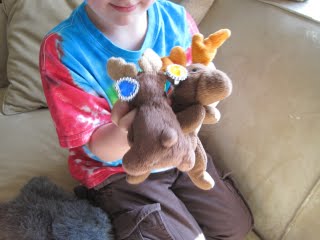 The preparations wound up taking a couple days, as we kept getting interrupted by little details like school and bedtime, but when you figure how long engagements tend to be these days, and how expensive weddings can be, I think we did pretty well. And afterward, the happy couple jetted off to Hawaii (under a living room chair) for their honeymoon, while the rest of us finished off the wedding feast.