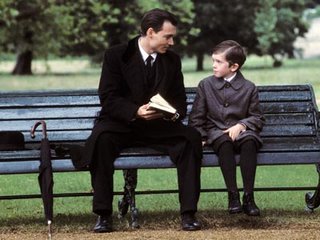 I found unexpected Father's Day fodder in the films Mary Poppins and Finding Neverland; here's an excerpt from my latest column:
As my family counts down the days to a summer trip to London, I decided to prepare my sons the way I know best: by watching movies about the place. Of course, my choices might not be the most realistic visions of the city, but we're not ready for A Clockwork Orange or The Elephant Man here (we may never be). I wanted to show them the London created by my childhood reading, the London of corner flower shops, chimney sweeps, and nursery tea, the London of Mary Poppins. I'm planning to read the books with the boys on our trip, but at home we started with Julie Andrews and Dick Van Dyke in Robert Stevenson's 1964 musical film.
You can click on over to Literary Mama to read the rest!