The first time we'd tried to visit the Eiffel Tower, we traveled via the batobus, which offers a scenic ride down the Seine.
Too scenic, as it turned out.
We arrived at 7pm and faced lines that snaked from the entrance back and forth all the way across the plaza. We were without sufficient food or line distractions to survive the wait, so we risked – and faced – the boys' loud and bitter disappointment by turning back and regrouping.
The next day was stormy and windy and Eli didn't nap. We debated: on the one hand, the weather might be keeping the crowds down; maybe a tired boy would be a docile and patient line stander…. But probably not, on both counts. We stayed home and cooked dinner.
Finally, we planned our ascent of the Eiffel Tower like mountaineers plan for Everest. In this case, Tony and I were the Tibetan sherpas, and the boys were Sandy Hill Pittman, who show up and have every desire met, needing only to put their bodies where they're told and not use up too much oxygen. I was grateful they didn't want cappuccino (although come to think of it, at the base of the Eiffel Tower, that would be easy to provide).
We'd been advised that the lines are shorter in the late afternoon, so we waited until after Eli's nap, hoping that the boys would be well-rested, the lines a little easier, and that we'd get up to the top and out before it was way too late for dinner (or even bed). We brought Eli's view master and discs, Ben's journal, 2 cameras (since Ben's a big photographer now), and windbreakers in case it was cold at the top. More importantly, I spent Eli's naptime packing up food: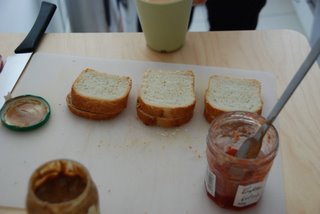 carrot sticks, water bottles, baby bell cheeses, 2 peanut butter and jelly sandwiches, 2 nutella sandwiches (never underestimate the motivating power of chocolate), 2 Z bars, and a ziploc bag of almonds and raisins. We set off at 4, arriving at the base at 5pm. Tony grabbed a bench with the boys while I staked out our place on line.
We didn't make it out without any tears (from Eli, when I started walking down a flight of stairs holding his hand rather than letting him hold the banister):


But, we made it up, we made it down, and we made it back home, our backpacks empty, four and a half hours later.

cross-posted at Learning to Eat