When I was a junior in college, I spent a year studying at Oxford University. I read (and read, and read), produced two twenty-page essays every week which I then read aloud to my tutors, attended lectures, drank pints of Pimms, ate quantities of curry, rowed on my college crew team, and spent hours around the kitchen table with my four housemates, taste-testing the various grocery store brands of wheatmeal biscuits and chocolate hazelnut spreads.
When we decided to meet Libby and her family during their first week of her summer teaching program in Oxford, I tried to think about what I knew of Oxford which might suit the kids. Biscuits and chocolate: yes. River (though not in a four-person scull): certainly. But the libraries and the lectures and the curry and the Pimms not so much. Googling "Oxford + kids" led me to a link for a multimedia show called the Oxford Experience, which sounded pretty awful. So Tony bought a map (a 3-D pop-up map that Ben popped up and down so often before we arrived that it was starting to get too creased to read) and I figured we'd have a nice, four-day country idyll, punting on the river and wandering the gardens with family before heading home.
Except it was so hot, we hardly wanted to leave our air conditioned apartment. And for the first time on our trip we had downstairs neighbors we needed to be mindful of and suddenly all the boys wanted to do is run, hard, up and down the hall. And wandering around lovely gardens is not really the boys' cup of tea; for instance they chose to picnic here: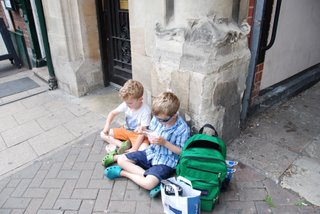 instead of here: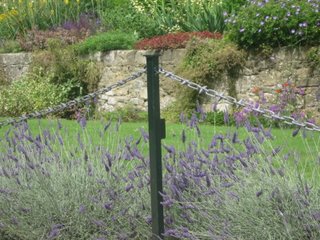 And were understandably more than a little put off by how many and how much of the gardens are just for looking:


Still, the boys loved Oxford because of the glittery linoleum floor in our bathroom ("Treasure!" said Eli); our apartment was equipped with a big kitchen (complete with china tea set!); some of the taxis illustrated the Periodic Table of the Elements (Ben's new interest):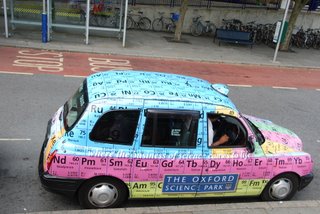 But most of all, they loved Oxford because they were reunited with their cousin Mariah, who lived with us through the winter and spring: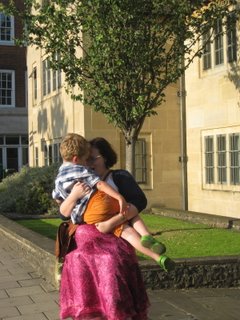 And despite the heat, an ice cream cone tragedy, the general whininess and travel-weariness, we enjoyed the river:
And the amazing Pitt-Rivers Museum:
which is full of rocks and bones and other cool things, many of which the kids could touch:
And on the last night, I even got my Pimms.