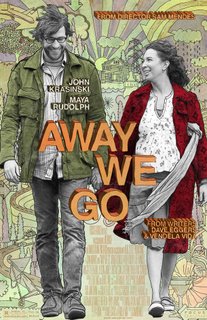 We interrupt this vacation blogging to announce that the latest Mama at the Movies column is now up at Literary Mama:
In the grand tradition of summer buddy movies, Sam Mendes' new movie Away We Go presents a couple who take to the road. They're not running from the law like Thelma and Louise or Manny & Lo, nor simply exploring, like the guys in Sideways; like road trippers from Dorothy in The Wizard of Oz to Bree and Toby in Transamerica, Verona and Burt are trying to get home. The difference here is that they don't know where home might be. Verona is six months pregnant, and the couple reminds me of Mr. and Mrs. Mallard in Make Way for Ducklings: they're looking for a good place to raise their baby.
Please click on over to Literary Mama to read the rest!