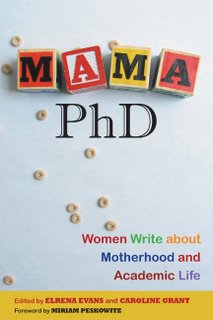 Months ago, the lovely and talented Gail Konop Baker, a former Literary Mama columnist, invited Elrena and me to guest blog at The Debutante Ball, a group blog for writers publishing their first book. It was a fun post to write — and I hope a fun post to read! Here's an excerpt from "3,000 Miles, Two Writers, One Book:"
Meet over email. Of course; you live, after all, 3,000 miles apart, but it helps our relationship get into writing right away. We are literally words on a page (screen) to each other for the first year of our collaboration (we don't even talk on the phone!) It doesn't hurt that we meet via Elrena's submission to the section of Literary Mama that Caroline is editing at the time.

Meet when one of you is pregnant. This helps get the conversation personal, pronto, as Caroline cautions Elrena that she might not get back to her very promptly with edits.

Don't always stick to the point. We know we are both writers, and mothers, and if we'd stayed on topic it might have stayed at that. Instead, we digress into breastfeeding and parenting and graduate school and ivory tower life — and friendship. And then, ultimately, a book.
Click on over to The Debutante Ball to read the rest!