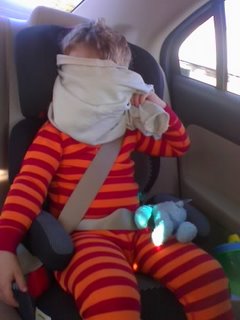 Easy travels don't make good stories, but I think I will take a painless plane trip over good material any day. The trip did net one good picture: this is Eli asleep in the car on the drive from Dulles to Libby's house. (Before anyone calls Child Protective Services on me, the blanket–his beloved patch blanket–was looser than it looks and I could hear him breathing.)
We made it from San Francisco to Virginia in under 12 hours door-to-door, which is one measure of a good trip. We made it without running out of snacks or needing any changes of clothes, which is another measure of success. I won't write any more because we have to do this in reverse on Wednesday and I don't want to jinx myself.
So now we are here, and the boys have eaten 3 bowls a piece of their beloved honey O's, a cereal they only get at their aunt's house, Eli has made friends with Anna the cat, and Ben has smashed his previous speed record on the go-cart. We've dyed some Easter eggs, I made a chocolate cake, and my niece heard today that she got into college! Life is good.
Happy Easter!