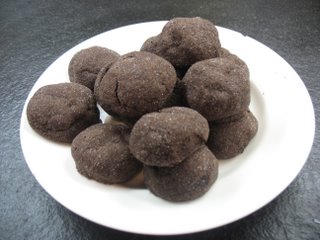 First, there was Stupid Tired. We'd been parents less than a week, and were driving the still-unfamiliar route to the pediatrician's office for Ben's first check-up when I said to Tony, "Shouldn't you turn here?" And he responded, "Aren't you driving?" (The irony of course is that now we could drive the route in our sleep.)
Then, there was Desperate Tired. The stand-out (although really, there've been so many times, it's hard to keep track) was my first morning home after a trip with Ben to visit my sister in Virginia. Ben was about 8 months old. He hadn't slept particularly in Virginia, and now on our first day back he woke for the day at 4:30 AM, Tony had gone in to work around 6:30, and by 9 I was lying on the living room floor, out of my head exhausted, crying pathetic tears and letting Ben crawl all over me.
Today didn't start out seeming like a day when I'd realize a new level of Tired, but there were 4 clamorous kids (only one of them mine) in the house all morning and then a too-short nap from Eli. We followed-up the nap with some rough-housing on the big bed — at least I could be horizontal, right? We were baby cats, and then we were baby dogs. We did bouncing, and then we made a fort with the comforter. And then there was more bouncing. And maybe it was the oxygen-deprivation in the fort, but all of a sudden I realized I was… waking up with Eli jumping on me! Hmm. Don't know how much time was lost.
Clearly (and I know not every exhausted mother would respond this way) it was time to do some baking, and Mayan Chocolate Cookies seemed like the right call. I tore the recipe out of the San Francisco Chronicle a few years ago and hadn't tried them till today. They're worth making. Even when you're not Espresso-Cookie Tired.
for the dough:
1 ½ c flour
1 ½ t baking powder
½ t salt
½ t cinnamon
1 t instant espresso powder
¼ t ground black pepper
1/8 t cayenne pepper
¾ c unsweetened cocoa
¾ c butter
¾ c sugar
1 egg
2 t vanilla
for the filling:
about ½ c chocolate chips
about ¼ c white sugar
Sift together dry ingredients.
Beat together butter and sugar until light and fluffy; add egg and vanilla and beat well. Add dry ingredients and blend. Wrap dough in plastic wrap and refrigerate for 30 minutes.
Preheat oven to 350.
Line a baking sheet with parchment. Put chocolate chips and sugar in separate bowls. Pinch off a walnut-sized piece of dough and press an indentation in the center; insert 4 chocolate chips and mold the dough around them to enclose completely. Roll the dough into a ball, roll the ball in the sugar, and place on baking sheet. Continue with remaining dough.
Bake for 8 minutes. Do not overbake; they're best when still a little moist in the center.