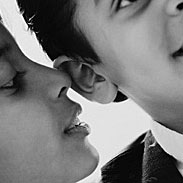 We've got extra children this weekend as old friends are involved in a no-kids wedding. One of the extras is Ben's oldest friend, M, a boy born just 10 days before Ben; the other is his three year-old sister. They're all like siblings, really, since we see each other all the time, and it's not much extra work for us. But there are moments.
This is what I overheard an hour ago:
Tony: Hey Ben, what's your plan?
Ben: It's a secret plan.
Tony: I figured, since I saw you whispering to M. Want to tell me what's going on?
Ben: Well, we're planning to go scare the little kids.
Tony: Oh–
Ben: Sometimes my plans put…pressure on the little kids.
Uh-huh.
We've got them redirected now.