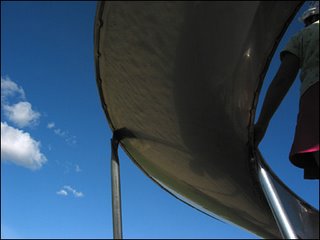 Ben's first day of kindergarten is today, and I'm feeling prematurely nostalgic for his childhood. I'll chalk it up partly to spending the weekend with some of my cousins, who have kids much older than mine. One, whose oldest son is 17, said it feels like just ten minutes ago that she was reading Goodnight, Moon to him. Another, whose eldest is twenty, said her arms sometimes burn to hold her daughter the way she used to.
Deep sigh. It's just kindergarten. Eli is home for another year before starting half-day preschool. They will be home for many more years, and some of those years will likely feel very, very long.
But still, something about this transition makes me feel like I'm sitting Ben down on top of a very long slide, and when he shoots out the bottom, a blink from now, he'll be 18 years old and walking off to college.