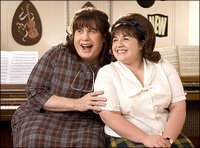 Christopher Walken is my new favorite movie dad.

The creepy actor best-known for playing villains and psychopaths nearly steals Hairspray (Adam Shankman, 2007) away from the radiant Nikki Blonski (playing his daughter Tracy) and John Travolta, sadly underutilized in a gender-bending role as his wife, Edna. It's Walken's Wilbur, the only character not swathed in a cotton candy haze of makeup, sequins, and hairspray, whose strong presence gives Tracy and Edna the foundation for their helium-balloon performances.

Hairspray opens up in the clouds, and with a long, swooping pan the camera sails down into Baltimore and through the window of Tracy Turnblad's bedroom. As the soundtrack thumps a steady beat, we see a shape wiggling in the bed, two bright eyes pop open, then two tapping feet emerge and slide into bunny slippers. This is the only time the camera looks at Tracy so closely, feature by feature; then it pulls back, and for the rest of the film, stays back so we can really appreciate the whole fabulous singing and dancing shape of her. She's an Energizer bunny of a girl who belts out her first song before breakfast. I wondered if the film could maintain its high-octane opening; its energy flags only when it pauses for dialogue, but happily Hairspray is an unapologetic musical, taking few breaks for conversation.
Click on over to Literary Mama to read the rest of this month's column, and let me know what you think!