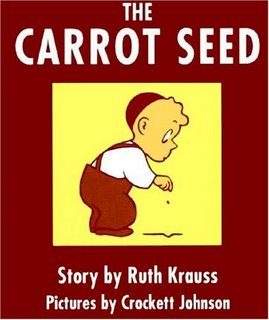 A couple years ago, friends gave Ben a copy of Ruth Krauss' sweet book, The Carrot Seed. It quickly became his favorite bathroom book, an appropriate choice, I thought, given its themes of patience and optimism.
Now, at nearly 17 months, Eli is at last becoming a reader and The Carrot Seed is at the top of his list. He'll grab it out of the bin (no neat shelving in this house right now), scamper over and flop into a lap. And so we begin:
A little boy planted a carrot seed.
His mother said, "I'm afraid it won't come up."
His father said, "I'm afraid it won't come up."
And his big brother said, "It won't come up."
We get a few more pages, until we get to the picture of the whole family, with the line: "Everyone kept saying it wouldn't come up."
Then the pointing begins, as Eli jabs at the picture, moving from mother to father to brother to little boy, insisting that we name each one. This goes on for a couple minutes until, suddenly bored, Eli grabs the book and flings it aside.
So much for narrative resolution.